L

egislation

, housing

targets

,

labo

u

r

shortages, market conditions

and the need for future proofing

– the perfect conditions for MMC.
No matter who we speak to – housing associations, local authorities or private developers, there is an acceptance we are on the precipice of change in housing construction. The rise in interest rates, build cost inflation, the housing crisis, cost of living crisis, housing target misses, shortage of skilled on-site labour, and changes in building regulations has created quite the storm.
Anyone familiar with the Tuckman model (ask your parents!) knows that "Storming" is part of the natural process following change as the participants react, adapt and accept.  Could this be the "Storming" period of the acceptance of MMC?  Alex Fink and Nicola Clayton from Etopia consider the issues and how Etopia can help. 
Future Home Standard and "Future-Proofing" 
The requirements under the Future Homes Standard and updated Part L and Part F, means that CO2 emissions produced by new homes are required to be 75-80% lower than those built to current standards. Homes will need to be 'zero carbon ready', with no retrofit required to benefit from the decarbonisation of the electricity grid and the electrification of heating.  
The Future Homes Standard (FHS) is intended to improve the performance of the fabric of a home through improved airtightness and u-Value.  The airtightness a home is expected to achieve under the FHS is 5.00 m3/hr/m2 at 50Pa, the Etopia SIP achieves 0.32m3/hr/m2 at 50Pa.  The U-value of new homes is set to improve to 0.15 W/m², the Etopia SIP achieves 0.14 W/m²K.  In effect enforcing a "fabric first" approach to developing energy efficient homes which the Etopia panel achieves. 
Building homes that are adaptable, flexible, and resilient to future needs and challenges is vital. The key driver is to build homes that will not require retrofitting with insulation to meet the Governments 2050 Net Zero Carbon targets – making them Future-Proof.  However not all MMC solutions are 'Zero Carbon Ready' and will require retrofitting to achieve the FHS. 
The Etopia SIP system already exceeds the Future Homes Standard and does not rely on tapes and membranes that may fail overtime.  It is important to bear in mind that EVERY HOME being built today – regardless of tenure – unless it meets the Future Homes Standard – WILL REQUIRE RETROFITTING.  The homes could be used as an asset to leverage future borrowing or sold but will have a DEBT HANGING OVER THEM – the debt will be the anticipated cost of the retrofit.  We must STOP building the retrofits of the future.   
To achieve the required levels of airtightness and u-Value with a timber frame or traditional block and brick, will require several layers of insulation and membranes which will result in increased wall thickness. Etopia SIP's are only 185mm thick and a complete wall make up can be achieved with a thickness of 262mm – compared to 367mm for a similar performing timber frame wall.   
Market conditions 
Interest rates have skyrocketed to levels not seen since 2008, at 5%. The average two-year and five-year fixed-rate mortgage rate currently in the UK is 6.5%* and 5.79%* respectively. Fuel bills have jumped to levels 27% higher than the summer 2022 price cap and 96% higher than the winter 2021/22 price cap. Gas has increased by more over this period; up by 141% since winter 2021/22 compared to a 65% increase for electricity. 
Building energy efficient homes dramatically reduces energy bills, lower energy bills improve affordability of rents and mortgages, making it easier to secure a mortgage and less stress for households who otherwise could have the dreadful eat/heat decision. The statistics on Fuel Poverty are alarming: 
A YouGov survey by the Food Foundation, a food poverty charity, found that in January 2023, 

17.7% of households in the UK were food insecure

 (ate less or went a day without eating because they couldn't access or afford food), up from 8.8% in January 2022 and 7.4% in January 2021.20 Jun 2023**

 
7.39 million

– the number of

households

who spend more than 10% of their income (after housing costs) on domestic energy. In 2022, 30.3% of households exceeded this threshold up from 20.5% in 2021 (4.93 million).***

 
Legislation 
The Levelling Up Bill is currently being reviewed by the House of Lords.  The Bill is largely seen as the new framework for major changes to the current planning system.  The main concern over The Bill is the proposed removal of housing targets.  The uncertainty around The Bill, high turnover of Housing Ministers in the past 6 years and increasingly poor economic outlook have led to a paralysis and stagnation of house building, particularly in the development of homes for sale but has also seen Registered Providers reducing their commitment to building new homes. 
Recently the National Housing Federation (NHF) has secured amendments to the Bill to protect the affordable housing provision.  A report by the NHF suggests that over 340k homes are needed in the UK each year of which 145k need to be affordable. In the 12-month period up to March 2023 246k new homes were supplied, however this is now reversing due to the reasons above.   
So, what's the solution?
Etopia is working with several banks, housing providers, developers, frameworks and energy companies to tackle the issues facing many. Using the Etopia system, will give developers and providers access to green finance through our panel of banks, but consumers will also be eligible for green mortgages, driving down the cost of development and home ownership. 
In the past few weeks, we have seen the collapse of Ilke homes and Legal and General Modular Homes, however there is much more to MMC than Volumetric (So Much More to MMC than Modular! – Etopia).  The issues highlighted above establish that homes built to Future Homes Standard using MMC are the ONLY solution to building MORE homes that the residents can AFFORD to live in.  After all, where and how we live is the MOST IMPORTANT factor of our lives that influences our ability to be healthy, happy, and fulfilled. 
*(based on 75% LTV) 
** You Gov Survey 
***Annual fuel poverty statistics report: 2023 – GOV.UK (www.gov.uk)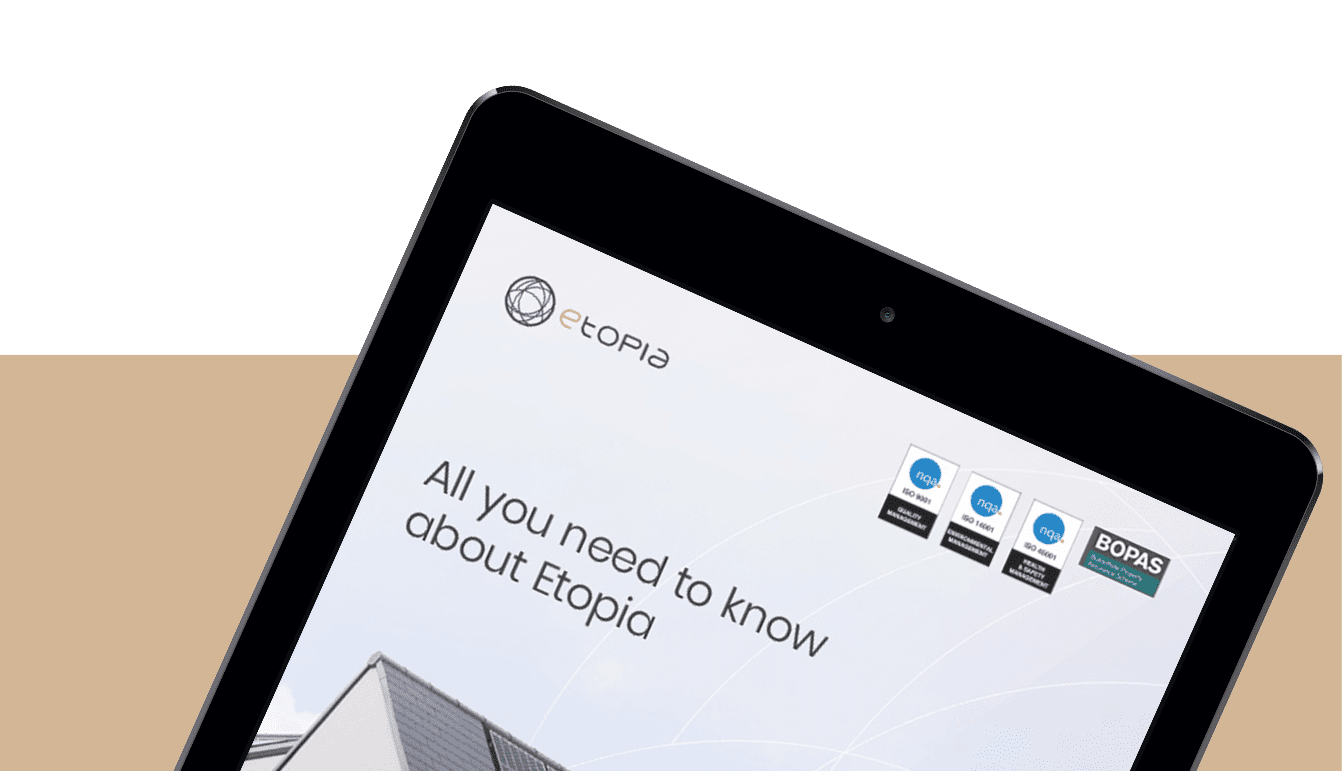 Download a copy of our brochure.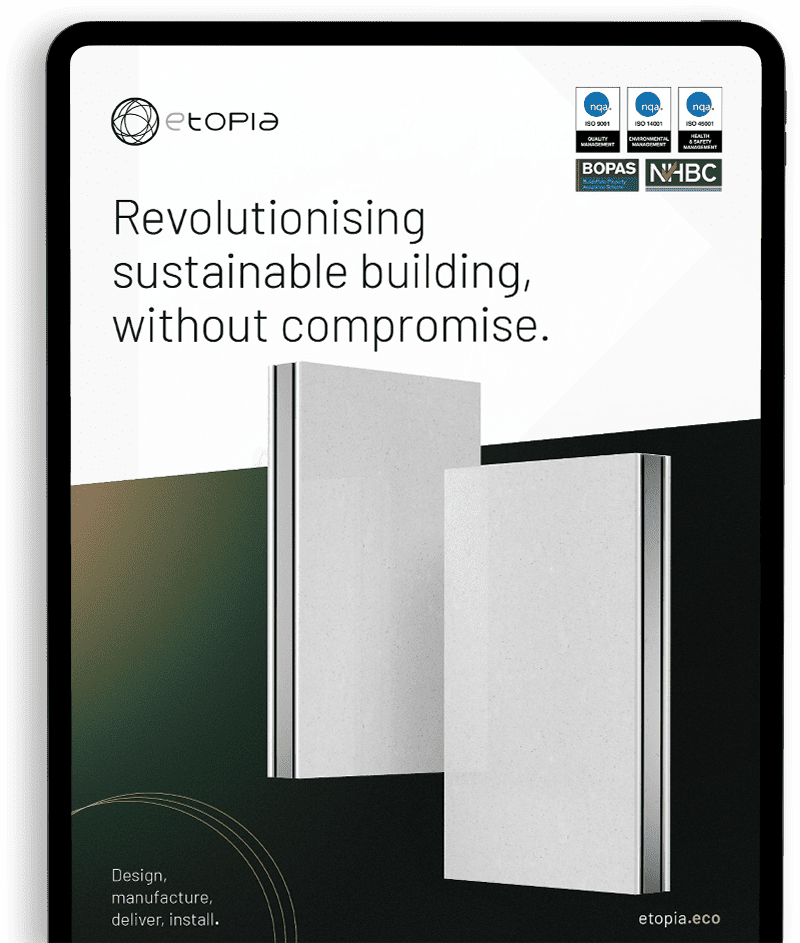 CONTACT ETOPIA
Ready to talk about your next build?
If you have any questions at all please reach out to us via the form. We're always happy to talk.
Other enquiries can be made to info@projectetopia.com.