Modern Methods of Construction (MMC) are innovative techniques for building homes and other structures that aim to improve efficiency, reduce waste, and increase the quality of the finished product. There are seven categories of MMC, but in this article, we will focus solely on MMC Category 2.
MMC Category 2, also known as 2D primary structural systems or panellised construction, involves the use of prefabricated wall panels and other components that are manufactured in a factory and assembled on site to form the structure of a building, replacing the need for brick. There are many types of panellised systems including open and closed timber frame panels, light gauge steel frame, and SIP (Structurally Insulated Panel) systems, which is what we use at Etopia. These panels are delivered as either individual smaller panels (Small Panel Format) or as several panels bonded together in the factory, then delivered as wall sections using cranes (Large Panel Format).
You can find us at the top of the Category 2 list on mmc.market.
All categories of MMC can offer numerous potential benefits, including cost savings, gains in speed of delivery, lower embodied and operational carbon, less waste material, and better quality and more energy efficient homes. We will cover these benefits of MMC in a separate article and focus today on the benefits of panellised systems.
The benefits of panellised systems:
Design flexibility
Panellised construction accommodates greater design flexibility because it allows architects and builders to customize the size and layout of each panel to suit the specific needs of a project. This is particularly useful for projects with complex or irregular floor plans. Additionally, panellised products can offer many different types of exterior finish options, meaning that the aesthetic can look and feel however the client wants.
Transportation
Panellised systems typically require fewer large vehicles to transport components to a construction site, resulting in lower transportation costs and less embodied carbon. Smaller lorries are used for projects that are in areas with narrow roads meaning delivery is not restricted by road access.
Site access
Panellised system providers can use a small panel format to access restricted or hard-to-access sites, as there is often no need for large cranes. This can be particularly useful for developing constrained brown field or garage infill sites.
Factory cost
One of the main benefits of panellised systems is the cost savings associated with factory operations. Panellised systems manufactured in a factory have lower overheads as they only produce one element of a building, not the completed home. Factories tend to be smaller, resulting in lower rents, with fewer full-time employees. This allows panellised systems to be nimbler and more adaptable if orders are delayed or cancelled due to circumstances outside of their control.
Furthermore, as houses from different projects are often produced using the same panel sizes, panellised systems can stock and store, meaning even less manufacture time and waste.
Storage
Panels are often stackable meaning less storage is needed compared to other systems.
Scaling up
Scaling up operations for MMC providers is a big investment in time and capital. Panellised providers can often scale up more easily than other forms of MMC. This is because factory space, number of personnel, and requirement for upfront costs are lower, as they produce just one element of the building. Similarly scaling down and budget management is much simpler for panellised build solutions.
Stage of involvement
Panellised systems allow for greater design flexibility which means in the correct circumstances they can get involved at a later stage of the design process and at later stages of planning applications.
Delivering for the communities you build in:
Social value is another important factor in construction. Panellised systems offer a lot of social value to the areas they build in, as they do not replace many onsite trades. The only possible exception being bricklayers. Furthermore, if there is a project big enough, panellised providers are likely to open a local manufacturing, delivery, and installation training facility close to the site, adding to jobs in the local area and up-skilling the workforce.
Lead Times
Panellised systems often offer shorter lead times as they can stock and store panel types for future client developments.
Rectifying problems
Only the panels are constructed offsite, so if any trade-based problems arise they can be easily identified and solved onsite. Furthermore, any damage during transportation and installation is typically limited to a new set of new panels.
In conclusion, panellised construction has many advantages over other types of MMC. Most notably greater flexibility in design both internally and externally, lower transportation costs, better site access and safety, and lower factory costs. Panellised systems offer a more cost-effective and efficient solution for builders and developers for projects of all scales.
To discuss Etopia's system and services, please reach out to us today. Nicola Clayton and Alex Fink will gladly discuss your requirements or queries. Or you can leave us a message via our website. If you're in the mood for some light reading our brochure is available for download via this form.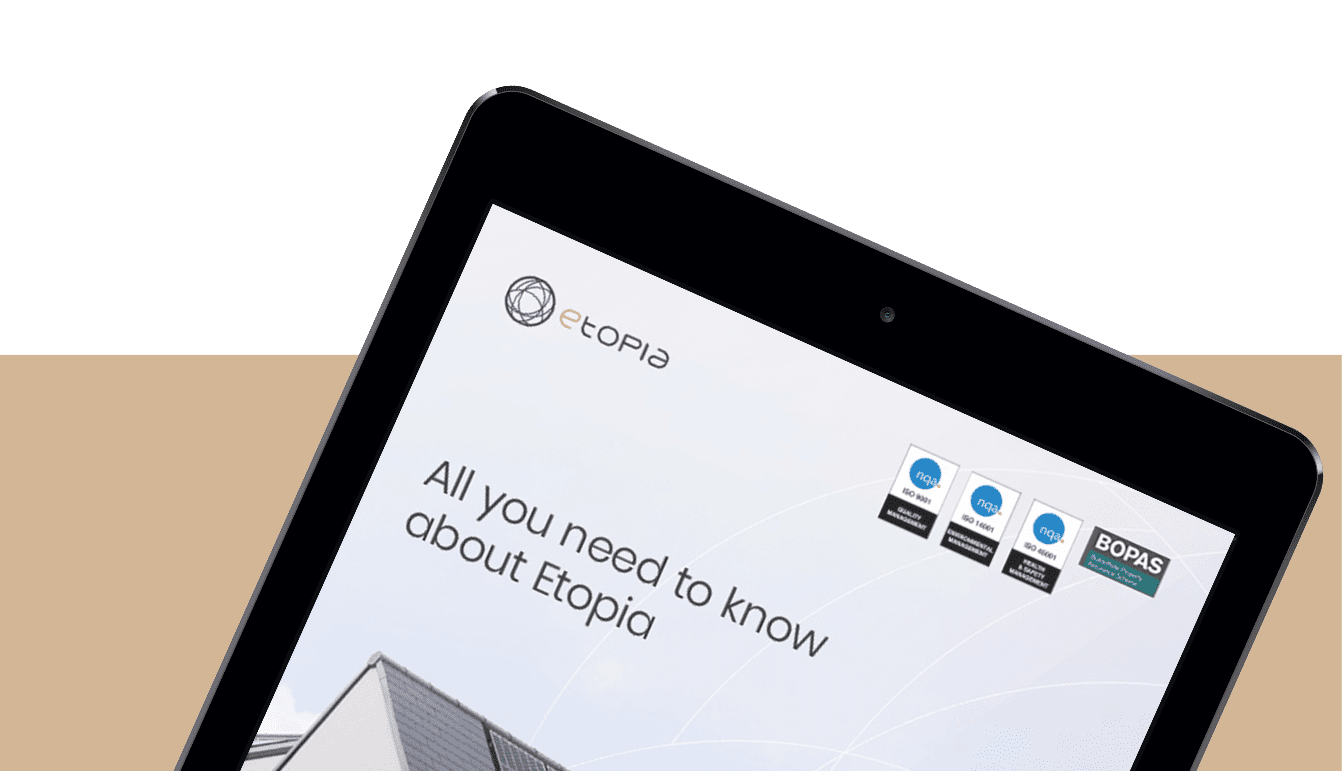 Download a copy of our brochure.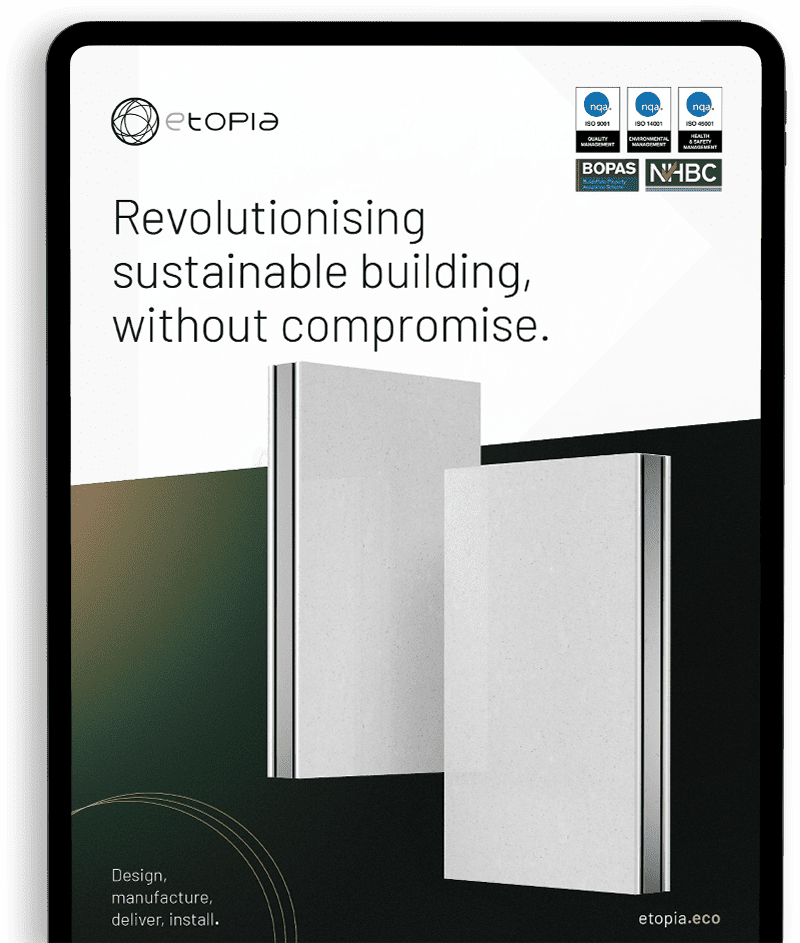 CONTACT ETOPIA
Ready to talk about your next build?
If you have any questions at all please reach out to us via the form. We're always happy to talk.
Other enquiries can be made to info@projectetopia.com.