New analysis of England's largest cities and towns shows Bradford, Wolverhampton and Coventry offer the greatest opportunities to level up
New research by the zero-carbon house builder Etopia Homes pinpoints the towns and cities in England which could make best use of the Government's levelling up funds.
The Levelling Up Opportunity Index compares the performance of the 34 largest towns and cities outside of London to identify places which might have traditionally under performed economically up to now, but which have the size and capacity for substantial future growth.
The index comes as the government is poised to launch its much-awaited levelling up white paper which will set out in what 'levelling up' means two years after it became the central theme of Boris Johnson's election manifesto.
‍It is believed the white paper is set to focus on improving living standards, growing the private sector and increasing and spreading opportunity.
‍Rather than simply consider traditional deprivation indicators – which might measure need, but give a limited sense of how a town or city is functioning economically – the Levelling Up Opportunity Index instead focuses on data around potential growth, business rates, commuting patterns and land use.
‍The aim of Etopia's index was to provide an evidence base which government could use to focus where it should invest levelling up funding to best drive economic growth.
‍The research has been peer reviewed and supported by WSP, one of the UK's largest engineering professional services consultancies.
‍Boris Johnson has made levelling up a key priority during his time as prime minister. In his speech to the Conservative Party conference this year, he states the phrase meant "…offering hope and opportunity to those areas that have felt left behind" while "…taking the pressure off parts of the overheating South East".
‍
In September the government announced that The Ministry of Housing, Communities and Local Government will become the Department forLevelling Up, Housing and Communities when this administration described levelling up as its central mission.
‍While it remains to be seen how exactly the government plans to do this – or whether towns, cities or councils will be the focus of the policy – some clues are available. The criteria for prioritising the £4.8billion Levelling-up Fund launched earlier this year looked at factors including unemployment and travel times to key facilities, rather than alternative measures of need or economic potential.
‍This new study gives an overview of which cities not only require economic development in order to 'level up', but which may represent critical opportunities, too, in terms of their potential to grow clusters of high-growth, future-facing industries and sustain larger working populations if their economic growth can be enabled by development.
‍As such, the index uses a combination of standard "negative"indicators (such as low current GVA per head, low productivity growth and low business rates generated per head of population) as well as "positive"indicators (such as the amount of brownfield land earmarked for development). England's 34 biggest cities and towns outside London were ranked on each of six key indicators, and the aggregate of all those ranks was used to give an overall levelling-up opportunity ranking.
‍Bradford emerged top of the list, indicating it has the strongest case for economic support as part of the levelling-up agenda, as well as significant capacity for new economic growth.
‍Wolverhampton was second, Coventry third, Sheffield fourth and Luton fifth.
‍The index includes a large number of so-called "red wall"areas where the Conservatives made substantial progress in the last general election. The top 10 local authority areas in the list are covered by 40 parliamentary constituencies.
‍The Conservatives won just seven of those seats in 2010, eight in 2015, and six in 2017 – but 13 in 2019. In a further eight seats theConservatives were just 5,000 votes or fewer behind Labour, highlighting a significant proportion of winnable seats if the Government gets levelling upright.
‍
Here is the full levelling-up opportunity index ranking. Individual indicators are explained, and discussed, in detail below:
1 Bradford (highest priority)
2 Wolverhampton
3 Coventry
4= Luton
4= Plymouth
6 Sheffield
7 Blackpool
8 Middlesbrough
9 Derby
10= Birmingham
10= Leicester
10= Stoke-on-Trent
13 Sunderland
14 Salford
15= Portsmouth
15= Carlisle
17 Brighton and Hove
18 Kingston upon Hull
19 Ipswich
20= York
20= Liverpool
22= Leeds
22= Southampton
24 Nottingham
25 Bristol
26 Reading
27= Lincoln
27= Norwich
29 Preston
30 Newcastle
31 Oxford
32 Manchester
33 Milton Keynes
34 Cambridge
‍
Dr Tom Arnold of the Heseltine Institute for Public Policy, Practice and Place at the University of Liverpool, said: "This study gives a good indication of the economic gap between our most successful towns and cities, and those that could benefit most from targeted support to unlock their true economic potential.
‍"The economic benefits of creating thriving, self-sufficient city-regions – not just for those that live there, but those who live within commuting distance – have been well understood by previous governments. Improving the economic fortunes of large towns and city-regions is crucial to the prosperity of places within commuting distance.
‍"The forthcoming white paper must explain how the economic potential of city-regions across the North and Midlands can be realised. If levelling up is to be successful and if it is to be of long-term benefit to the nation, then it must clearly include levelling up the economies of places like Wolverhampton and Bradford."
‍WSP and Etopia Homes are both passionate advocates for levelling up and for adhering to the UN's Sustainable Development Goals to deliver low carbon housing and infrastructure and creating communities which reduce poverty and inequality.
‍Ashley Dunseath, Director inWSP's Strategic Advisory discipline, said: "This index provides new insight into the economic prospects of our largest cities and towns. In particular, the index highlights places which have missed out on significant investment over several decades but are known to have genuinely strong economic potential.
‍"Government should consider awarding levelling up funding to those authorities able to evidence the greatest opportunity, and consequently most capable of demonstrating transformational growth by becoming self-sustaining and in control of their own economic prosperity."
 "We wanted to create an evidence base which can help Government to weigh up where it should invest levelling up funds to best drive economic growth. The Levelling Up Opportunity Index provides Government with a new lens with which to evaluate the economic potential of Britain's largest cities and towns.
Joseph Daniels, Founder of Etopia 
"If this Government is to leave areal legacy from levelling up then it needs to be willing to take on the transformational levelling up opportunities that our index has shown exists in places like Leicester, Wolverhampton and Bradford.
‍"These towns and cities all have huge potential to become self-sufficient centres of economic growth and by investing in low carbon, sustainable property development, we believe a bigger, better and more resilient economy can be delivered for these places themselves and for Britain as a whole."
‍In 2020 Etopia became the first house builder in the world to achieve both the Carbon Neutral International Standard and to join the UnitedNations Climate Neutral Now Initiative.
‍Philip Davies, Conservative MP for Shipley, said: "As this index clearly demonstrates, if levelling up means anything at all it must mean giving extra attention and support to the whole of the Bradford district. I hope that the government will take heed of this and ensure that support across the full Bradford district is prioritised."
Paul Maynard, Conservative MP for Blackpool North and Cleveleys, said: "Levelling up should be all about allowing towns like Blackpool to fulfil their potential. With £40m secured via the Towns Fund, the largest amount in the country, now is the time to start investing in people so we can take advantage of the infrastructure investment coming to the town. This index, and the data behind it, show why the levelling up agenda remains vitally important to towns and cities across the country that should be seen as opportunities as well as challenges."
The full data used in the index is available in this spreadsheet.
(Data sources are listed in the "sources" tab.) A visual summary can be seen below: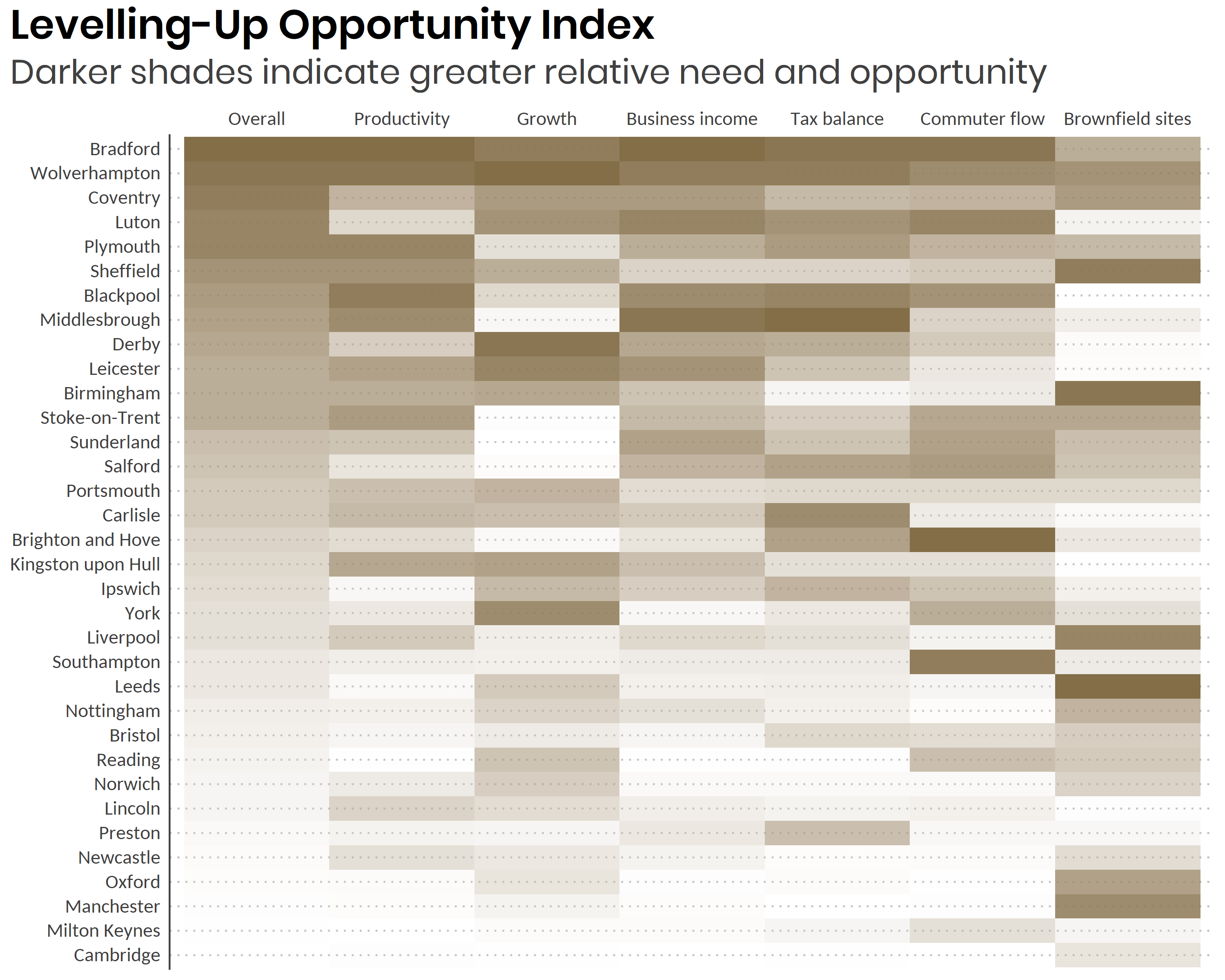 IN DETAIL: THE INDICATORS USED INTHE LEVELLING-UP OPPORTUNITY INDEX, AND WHAT THEY SHOW
Key indicator 1: Does this town/city need help to reach its commercial potential?
Metric: net non-domestic rates collected per capita of population
Bradford finished top of this category, collecting just £245.07 in rates for every man, woman or child. It was one of only four towns and cities where that figure fell below £300.00 (the others being Middlesbrough, Wolverhampton and Luton). Cambridge, by contrast, generates £915.48 in business rates per resident, with Reading (£861.90) not too far behind. The study used net collectable rates in 2019-20 to avoid being skewed by the impact of the Covid 19 pandemic.
Key indicator 2: Is this town/city currently taxing people and property more than business?
Metric: ratio of net domestic-rates collected per capita to council tax collected per capita
While historically councils have only collected – and not kept – business rates, the rules have been changing in recent years with a view to towns and cities benefiting from the economic activity they host, and grow. This indicator attempts to give a sense of the distance to go in order to effectively rebalance the tax split between businesses and individuals. A number of more successful cities already generate more in business rates than council tax, and therefore have a weaker case for"levelling up". Manchester for example raises £1.62 in net non-domestic rates for every £1 of council tax. Cambridge, Reading, Oxford, Milton Keynes,Norwich, Newcastle and Birmingham also raise more in rates than council tax.Middlesbrough however has the biggest imbalance, raising 54p in rates for every pound of council tax, with Bradford (55p) close behind. Those places have a greater need for help in stimulating business income to support local communities, and services.
Key indicator 3: does this town/city need help to function as an employment hub?
Metric: ratio of people commuting in to the authority to people commuting out of the authority
Concentrating employment opportunities in cities and city centres has traditionally been seen as the best way of building economies, by unlocking agglomeration benefits, as well as giving a focus for infrastructure, public transport, and shared resources like hospitals, shops, museums and leisure services. Yet in two of the 34 cities and towns in our analysis – Bradford andBrighton – more people commute out on any given morning than commute in.This is perhaps less surprising in the case of Brighton – a smaller city withLondon in commuting distance – than Bradford. It suggests Bradford has untapped potential as an economic hub. At the other end of the scale, excessive commuting in smaller towns and cities can actually create problems by overloading public transport or creating congestion on the roads. Cambridge finished bottom in this levelling up category, as 3.2 people currently commute in for every one who commutes out.
Key indicator 4: does this city need assistance to achieve reasonable levels of growth?
Metric: GVA per-capita
GVA is an imperfect measure of productivity, particularly when we measure it at local authority level, when whether council boundaries are narrowly or loosely drawn around theCBD affects the overall picture. Nevertheless, as a measure of how much businesses generate and pay employees, it may still be the best one we have. For this indicator we use the UK's (unique) balanced regional estimates, which combine income and production methods of measuring productivity. Bradford had the lowest GVA per head of any town or city in the study, at £17,652. Wolverhampton was next (£17,938), with a big jump then to Blackpool (£20,344). The sheer scale of the gap that needs closing if places like those are to truly "level up" can be seen in the fact that four towns and cities in the study – MiltonKeynes (£53,331), Reading (£49,466), Cambridge (£49,126), and Manchester(£41,178) – have GVA per capita that is more than twice as high.
Key indicator 5: is the city heading in the right direction without the need for further intervention?
Metric: Growth in GVAper capita since 2000
Percentage growth in balanced GVA per capita since the start of the 2000s gives an idea of the direction and speed of travel: even if a city is lagging behind in absolute terms, one could argue that rapid growth means a place is less in need of targeted intervention. Unfortunately, the places with the lowest current GVAper head also tend to have seen slower growth than their rivals. Wolverhampton, for example, has seen GVA growth of just 33.9 per cent since 2000 – lower than any of the comparator towns and cities – and as the second lowest GVA in absolute terms. Derby has seen the second slowest growth (up 49.7 per cent since 2000), while Bradford – which has the lowest GVA in absolute terms – has also seen the third slowest growth.
Key indicator 6: does this city have space for sustainable growth?
Metric: total area of land on the brownfield register
While existing statutory brownfield registers only include land deemed suitable for residential use, they do at least give an indication of the total acreage available for sustainable development. Urban greenfield spaces remain fiercely protected, but towns and cities are increasingly looking at redeveloping previously-used sites – and the larger ones tend to have larger sites available to exploit.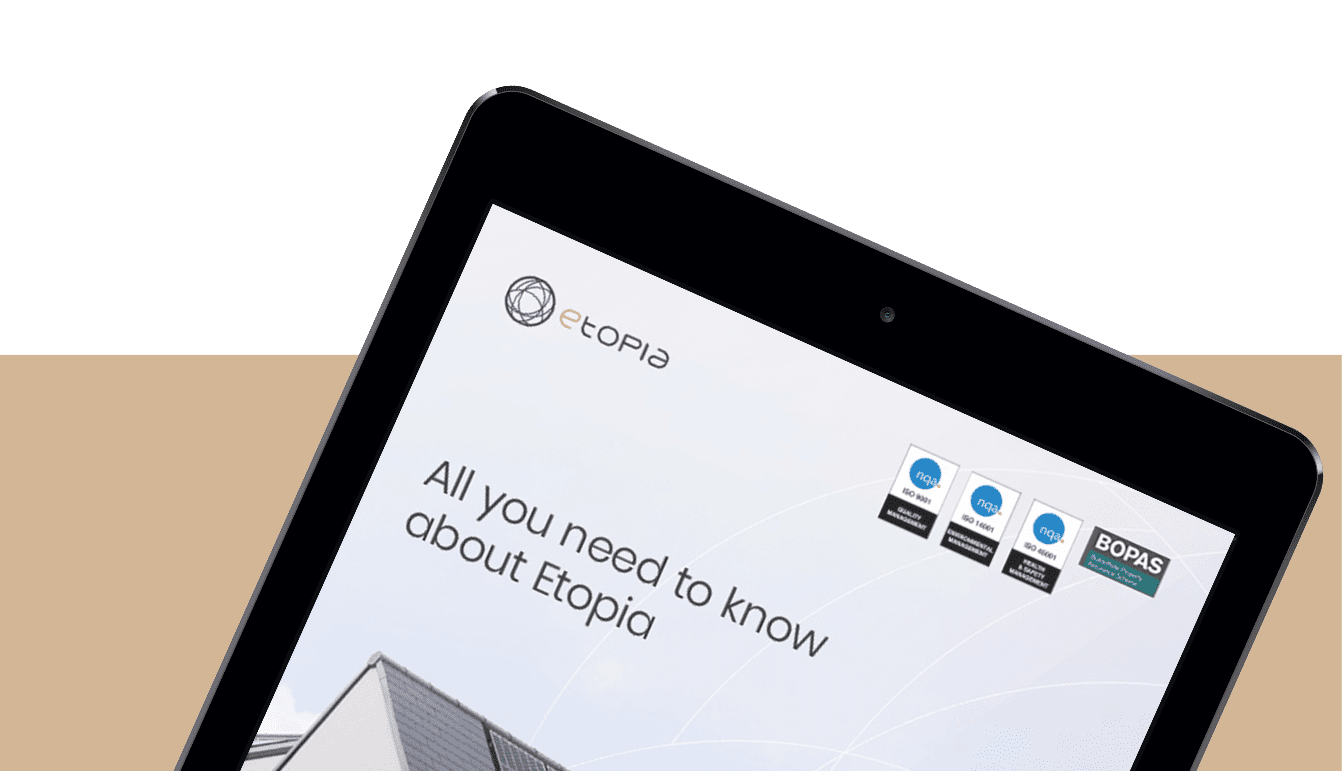 Download a copy of our brochure.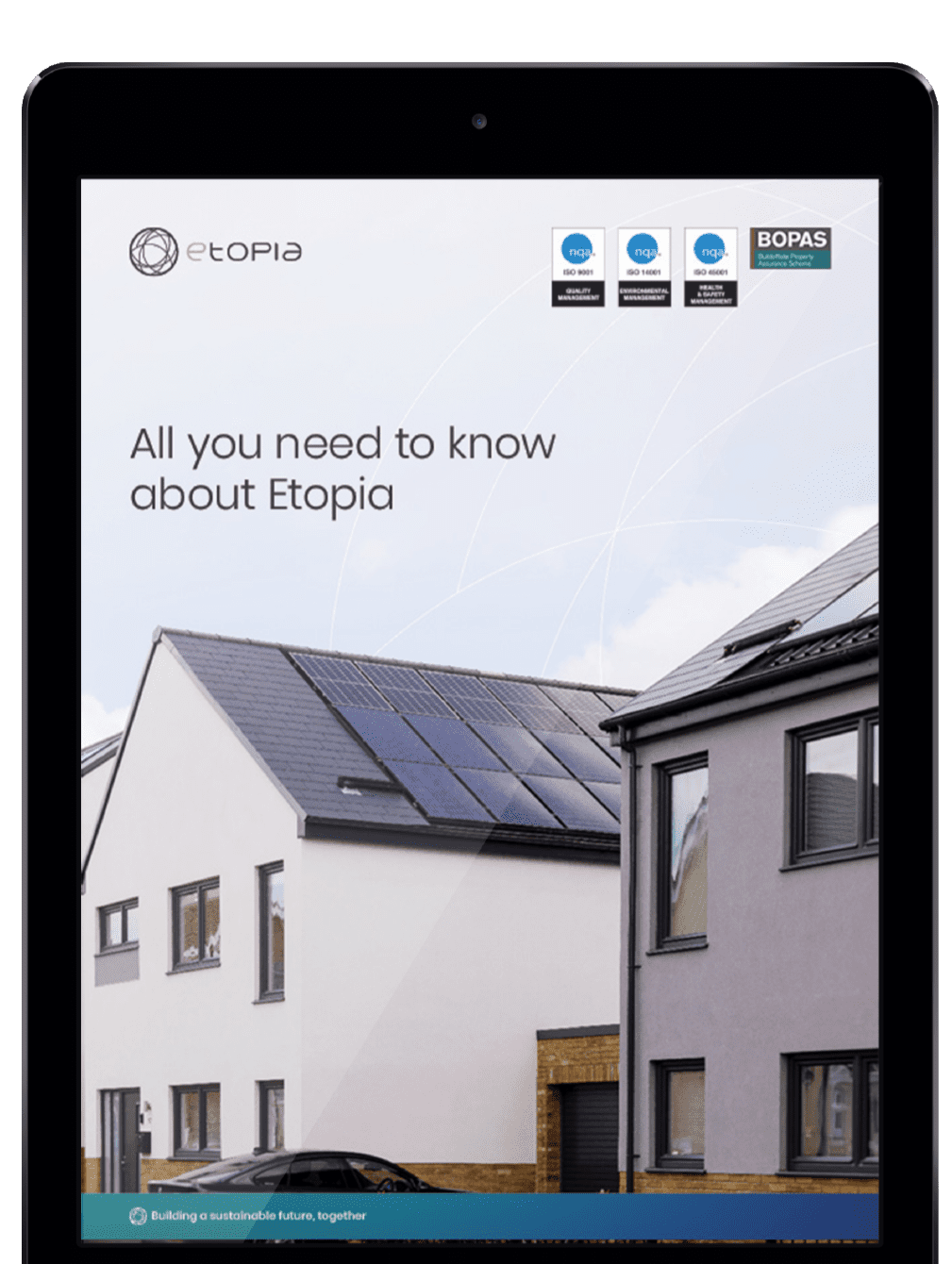 CONTACT ETOPIA
Ready to talk about your next build?
If you have any questions at all please reach out to us via the form. We're always happy to talk.
Other enquiries can be made to info@projectetopia.com.