As Net Zero and the low carbon transition hasten, fascinating but presently nascent green tech is going to be in the ascendancy.
The business logic behind this is rock solid. Legacy approaches to carbon are out and it makes sense to take legacy technologies off the menu too.
Replacing them, we need rapid new solutions like IOT smart tech, responsive renewables and intelligently designed building materials in our homes and offices.
Aligning the early adoption of such tech with Net Zero makes complete sense. As we redesign older infrastructure, like our electricity grid, it makes sense to redesign the complementary technology within our buildings to a similar timeline.
We can also piggyback more functional independent bodies alongside this structural change. The Guardian writes that National Grid is to lose its overarching electricity role to a new independent operator.
The Government, says the broadsheet, plans to strip National Grid of its role keeping Great Britain's lights on as part of a proposed "revolution" in the electricity network driven by smart digital technologies. A new body will make the energy system 'fit for the future'.
So, this is our brave new world. Beautifully aligned, it will combine green tech, green policy, greener public infrastructures, bodies and task forces with Net Zero aspirations.
‍
The undeniable green business agenda‍
These are exciting times, because rolling these things out transparently in a joined-up manner makes vital business and environmental sense. Here's why.
‍We already know the Sixth Carbon Budget has set top level, binding carbon reduction goals. Working with this policy, early green tech adoption has myriad commercial advantages.
‍An obvious one is future-proofing against evolving policy. It's a fair bet punitive taxes and measures against carbon will strengthen as we step towards 2050. Your business doesn't need to manage these when you procure more sustainably today.
Equally, there are massive environmental and social governance (ESG) and corporate social responsibility (CSR) wins from getting on the green tech rollercoaster early. Companies will probably have to report more stringently on carbon into the future anyway, but ESG and CSR reporting can benefit right now from using the most sustainable tech.
‍Investors will smile at this approach, safe in the knowledge your firm is a stable place to stash their cash.
‍Plus, greener tech is more modern. It's simply better by definition than legacy options, it's more recently designed, more reliable and more advanced. Costs on sustainable tech are falling and they are only going in one direction; lower. Big bonus points for businesses.
‍
Tomorrow's green tech today
‍"The time to run with green tech is now," comments Joseph Michael Daniels, Founder and CEO, Etopia.
‍He continues… "So many great examples exist. Microsoft has been trialling underwater data centres. They're eight times more reliable than those on land plus you can place them near coastal cities. Data would have a short distance to travel, leading to fast and smooth web surfing, video streaming and game playing"… ‍"The consistently cool subsurface seas also allow for energy efficient designs and in terms of infrastructure why not site them with tidal turbines or wave energy so they're 100% renewably powered?‍" …"Etopia's tech works to similar principles; align things intelligently for sustainability and Net Zero but build with tomorrow's new infrastructure in mind too."
‍
Early adoption of policy and technology
‍It might seem early in the day for underwater data centres, but the thoughtful money might well place bets on similar technologies in the housing sector and beyond. Change is coming, whether legacy tech providers and producers like this or not.‍
"As long as we ensure we assess all disruptive tech against the right carbon criteria; embodied, operational and organisational, then we can be encouraged that it's fit for Net Zero,"
Joseph Michael Daniels
‍How soon do you think green tech needs to hit the headlines globally? What's the best way to hasten this transition? Let us know.
‍At Etopia we are keen to engage and communicate with everyone – join our community and build a green tech future we can all be proud of.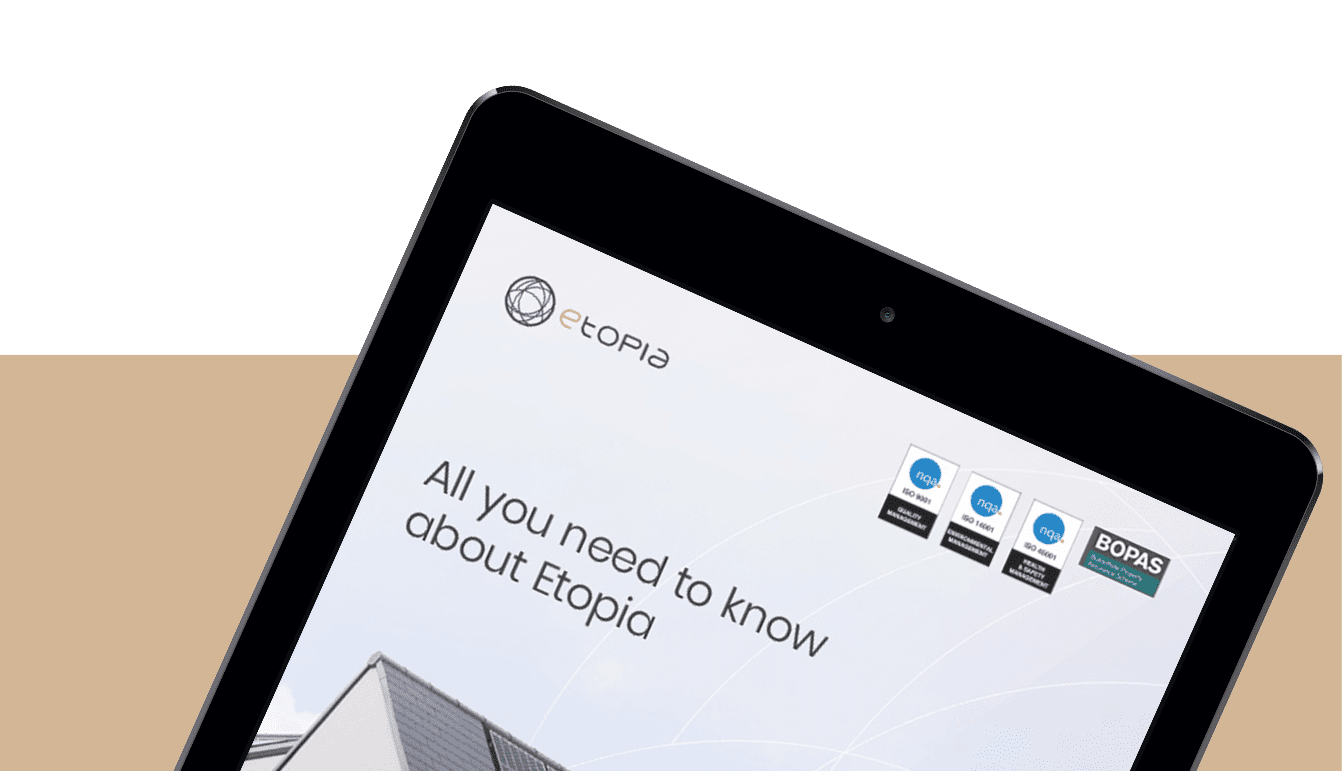 Download a copy of our brochure.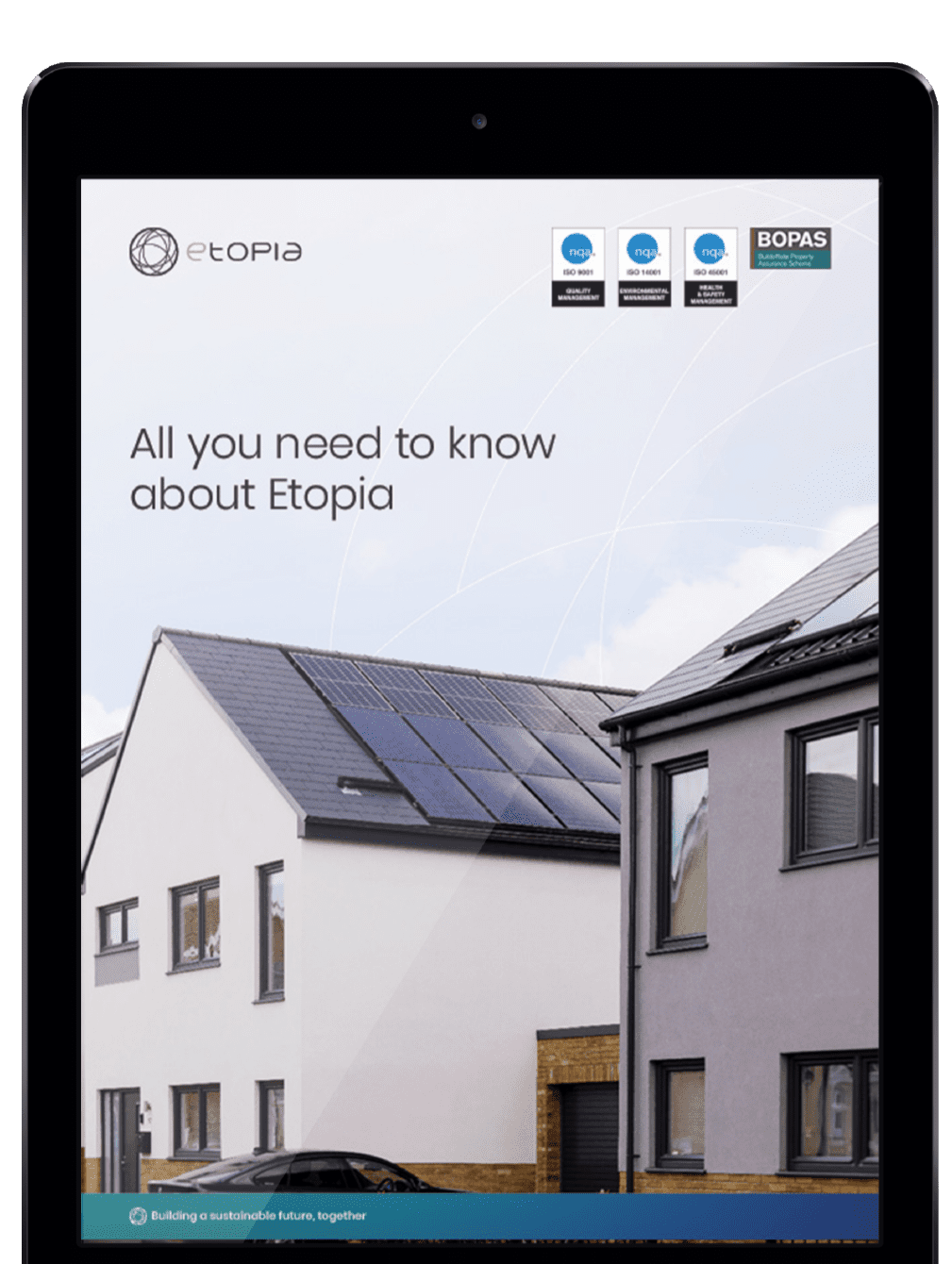 CONTACT ETOPIA
Ready to talk about your next build?
If you have any questions at all please reach out to us via the form. We're always happy to talk.
Other enquiries can be made to info@projectetopia.com.