"How do I know which MMC system is best for my development?"
This is one of the questions I am asked most frequently. My answer is always the same – you must have clear, key outcomes for the scheme (design, cost, performance, constrained site, etc.). Your "must-haves" will guide you to the system that is right for you and that site. Currently, many affordable housing providers' "must-haves" is a home that is energy efficient. This can be defined in several ways, such as "Net Zero Ready," "EPC A," or "Future-Proof Homes."
The focus on energy efficiency performance in delivery is being driven by several factors (well-documented by myself and other colleagues within the construction/MMC industry). The cost of living and fuel poverty crises, and carbon reduction are very important factors, but one that is sometimes overlooked is the future costs of retrofitting homes not built to Future Homes Standard. A significant consideration that is becoming critical, as the cost of some retrofits can be up to £80k per home! The Committee on Climate Change (CCC) states that 29 million existing homes need to become low-carbon and resilient to climate change. I can't bring myself to work out the potential costs, even assuming most won't require £80k, it's still absolutely eye-watering.
Given the raft of regulations that are being implemented in energy provision, building standards, and reducing carbon, the future cost to bring properties up to net-zero standard should be included in the viability assessment on developments. For those Housing Associations that already do consider retrofitting, it's no surprise that building Futureproof Homes is a minimum standard, with some targeting passive house levels of efficiency. The added benefit of providing customers with a safe, warm home they can afford to heat, eat, and pay their bills makes the decision to build homes with a fabric-first solution that meets the Future Homes Standard an obvious choice.
An Inside Housing article from September 2022 reported that in the financial year 2021-2022, the biggest 157 associations in the UK completed just under 50,000 homes. Only 607 homes – 1.2% achieved an EPC rating of Band A, and the numbers are falling. So, if it's such an obvious choice, why aren't Housing Associations building more homes to EPC A? I think there are 2 main reasons.
The first is the additional cost. A home built to a higher performance standard with higher U Values and airtightness is going to cost a little bit more – you get what you pay for – it's true! The uplift in cost is a fraction of the cost of future retrofitting and the impact on residents of living in a home that could leave them in fuel poverty.
The second is that the higher level of performance is not specified in the Employee Requirements to the contractor. In some cases, the ERs state the use of Modern Methods of Construction (MMC) or an off-site solution is required, under the assumption that all MMC options meet the Future Homes Standard – they don't – most only comply with current building regulations.
When Housing Associations (or any landlord) are building homes that will last several lifetimes, quality must be the main consideration – without it, the homes will require expensive retrofitting or even replacement, and residents will be living in homes that are in fuel poverty.
In short, if you build a home that doesn't meet the Future Homes Standard, you are building a financial and social liability for the future. To ensure the homes you build for your customers enable them to live healthy lives without the worry of high energy bills, choosing between heating or eating, and struggling daily, you should:
Specify the U Value and airtightness of the fabric of your homes to the Future Homes Standard. The Future Homes Standard consultation impact assessment – GOV.UK (www.gov.uk)
Factor in a slightly higher build cost, as the homes will be of superior quality that will not require retrofits in the future that will cost £10k? £30k? or even more. Working with MMC providers will also bring costs down in the future, as their purchasing power increases and drives down costs.
So, check your spec and stick to it! What might cost a fraction more now could save your organisation £millions in the future.
If you'd like find out more about how the Etopia system exceeds the Future Homes Standard – please contact me, Nicola Clayton at nicolaclayton@projectetopia.com or M: 07931539549.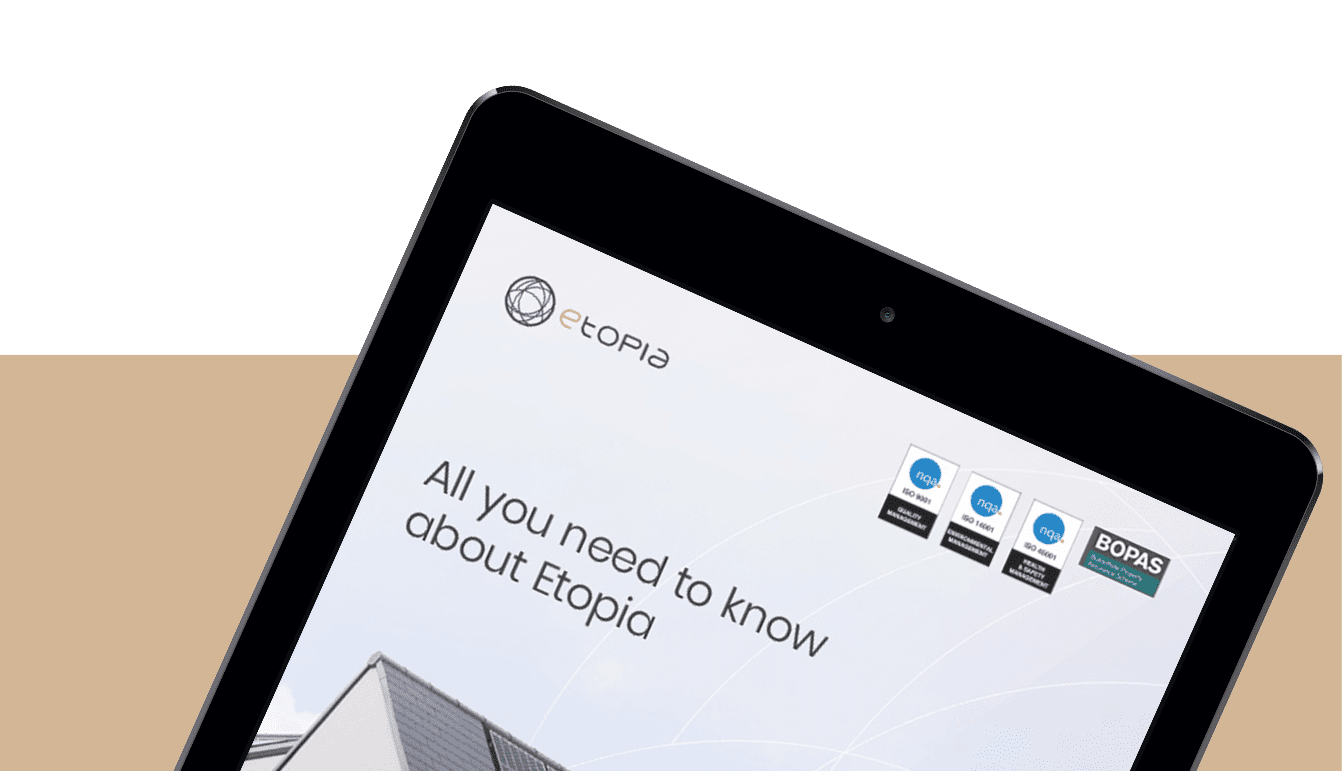 Download a copy of our brochure.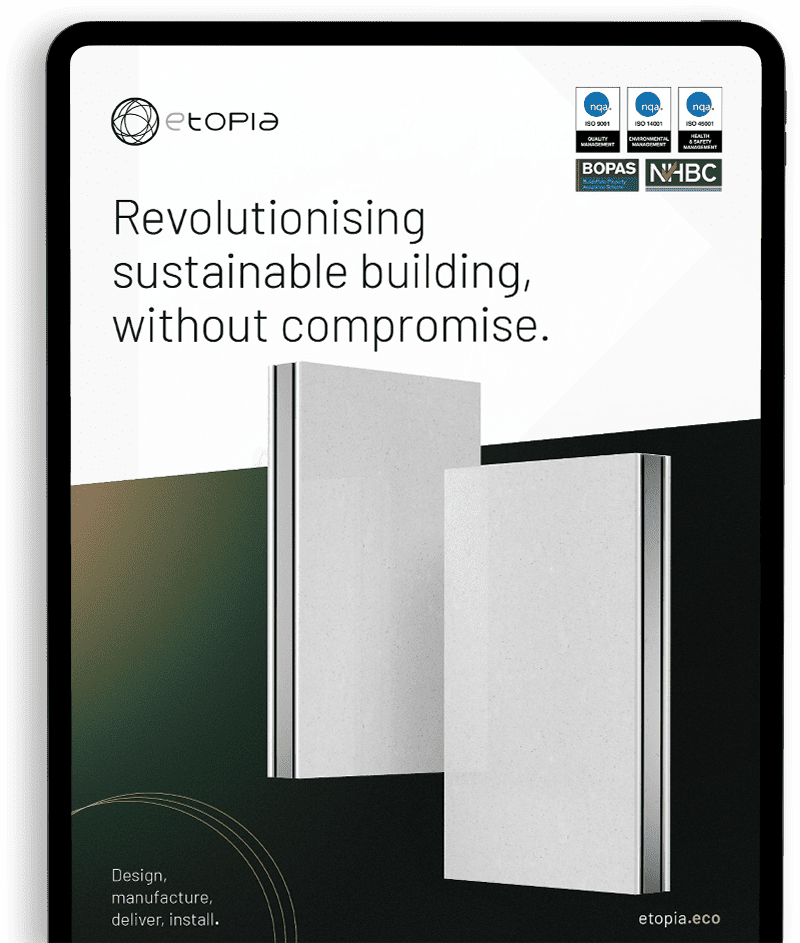 CONTACT ETOPIA
Ready to talk about your next build?
If you have any questions at all please reach out to us via the form. We're always happy to talk.
Other enquiries can be made to info@projectetopia.com.